Viol Consort Day 19th July 2021
Ten viol players gathered for a morning of consorts coached by Alison Kinder, followed by an afternoon playing while a number had private lessons. Tomkins, Jenkins, Coperario and Byrd were studied and it was great to have two consorts going again.
Concert - O Clap Your Hands...
Great Waltham Church, 12th June 2021
A fabulous concert of music by Gibbons, Tomkins, Byrd and their contemporaries. Chelys Consort of Viols played superbly and Essex Voices were on good form. The church was at full, socially-distanced capacity and the evening was thoroughly enjoyed by all.
Viol Consort Days 1st and 2nd June 2021
Two groups of six players were able to meet on each of two days. Expert coaching by Alison Kinder and the sheer joy of being able to play together again made these two days really special for the participants. We studied works by Brade, Schein, Simpson, Coperario and Ferrabosco. Social distancing added another dimension to ensemble playing! As usual, many availed themselves of the opportunity to have a private lesson.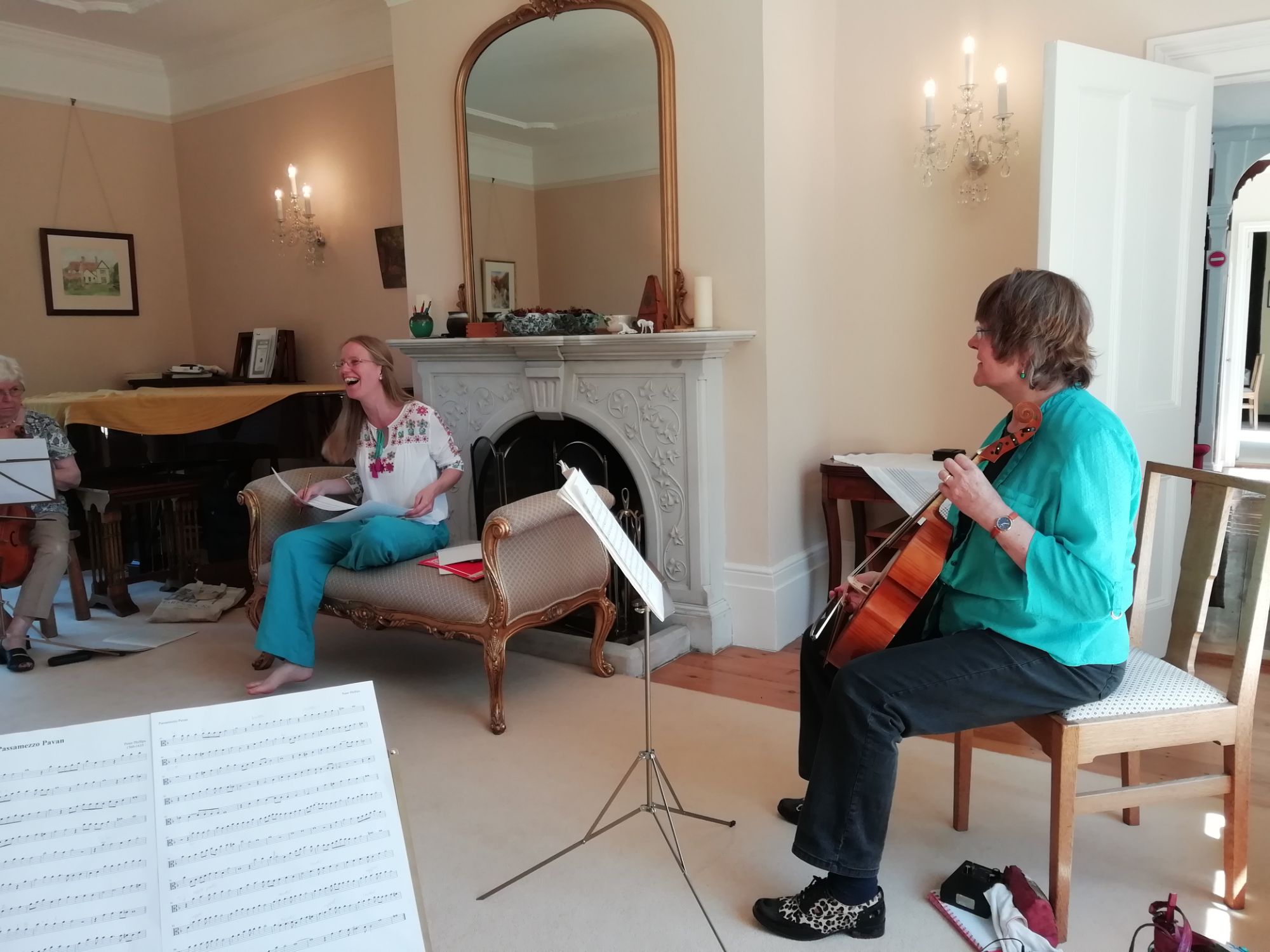 Viol Consort Days 12th and 13th October 2020
We were delighted to resume our regular consort coaching days with Alison Kinder. We were able to have one socially-distanced consort ably coached by Alison. On the 12th the focus was two of the 5-part fantaisias by Michael East. The afternoon gave the opportunity for individuals to have a private lesson with Alison, welcome after the long break due to Covid-19. On 13th the morning was spent on the Tomkins 4-part Fantaisia on Ut, Re, Mi. Fa, Sol, La. And in the afternoon, the Little Consorts by Matthew Locke provided a work out as well as some short pieces by Du Mont.
Viol Consort Day 11th March 2020
The latest in our series of consort coaching days with Alison Kinder. Two consorts played for the morning and were coached for half te time. In the afternoon, individuals had private lessons whilst the rest of the participants played a variety of music.
Viol Consort Day 20th November 2019
Great to welcome another player new to the group today! We played in two consorts for most of the day, meeting up to play polychoral Gabrieli and Mouton in the final session.
Viol Consort Day 18th September 2019
It was good to have a new participant join the regulars and to welcome back those returning after illness. Everyone was friendly and welcoming and the consorts worked out well. We tried some Holborne which was a new departure for us and finished the day with a 9 part piece by Melchior Frank and an arrangement of Brigg Fair by Percy Grainger which worked very well on the viols.
Viol Consort Day May 22nd 2019.
Unfortunately I didn't take any pictures at the day we had on 22nd May 2019. However we had a good day playing Lupo, Byrd, Ward, East and Gibbons. Alison Kinder was in great demand for private lessons in the afternoon and everyone thoroughly enjoyed the day.
Viol consrt day February 20th 2019
The latest in our series of days coached by Alison Kinder. 11 players formed two consorts and were coached in the morning on a range of repertoire including Gibbons, Byrd and Okeover. In the afternoon, many took the opportunity to have a private lesson with Alison while the others continued playing. The afternoon ended by singing and playing Lotti's 8 part Crucifixus which worked really well with viols and voices before a spirited performance of an 8 part canzona by Gabrieli.